Android 4.4 hits 2.5% adoption and Jelly Bean up to 62%
17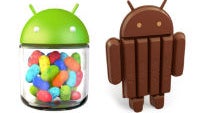 Every month, Google releases the Android platform distribution numbers in order to give developers a better idea of what the ecosystem looks like in terms of devices accessing the Google Play Store (because obviously developers don't really care about those who don't access the store.) The latest numbers for March (aka the end of February) are showing the continued movement towards Android Jelly Bean and KitKat.
The movement isn't all that much, but it is movement nonetheless. Since
last month
, Android KitKat has gained 0.7% to hit 2.5% of the ecosystem. Given that KitKat is just starting to see updates to non-Google devices (Nexus, GPE, & Moto), so the number should start to rise a bit quicker now. And, once the Samsung Galaxy S5 is released in April, that number should see a significant spike in May and June.
Android Jelly Bean (4.1, 4.2, & 4.3) also saw the biggest bump of any dessert, up from 60.7% of the ecosystem to 62% even. Ice Cream Sandwich and Gingerbread continued to slowly slide, each dropping 1% off of their totals. Just over a year ago, we asked: should developers start adopting an
Android 4.0+ policy
with new apps? The question was controversial at the time, but maybe not anymore.