Android 4.4 factory images for Nexus 4 and Nexus 7 released despite no OTA updates
25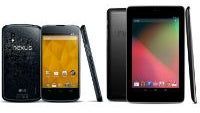 A couple days ago, Google began the
rollout
of the over-the-air (OTA) update of Android 4.4 KitKat to the Wi-Fi only versions of the Nexus 7 and the Nexus 10. Yesterday, we got the
manual update
packages for those same devices. But, Google said that the updates for the Nexus 4 and the mobile data enabled Nexus 7s would be "coming soon".
Well, there's still no OTA update for the Nexus 4 or the mobile data enabled Nexus 7s, but Google has released the factory images of Android 4.4 for those devices. This means you can get the newest version of Android on one of those devices if you want, but you would have to be willing to wipe your data and start from scratch.
There are factory images for the Nexus 4, 2012 Nexus 7 (Wi-Fi and 3G), and 2013 Nexus 7 (Wi-Fi and LTE). There's no factory image for the Nexus 10 yet, but since the OTA is rolling out for that tablet, it shouldn't make much difference. Flashing your device back to stock is a bit more involved and has more potential for error than just running a manual update, so if you're really interested in flashing one of these factory images, you'll be able to find the instructions from multiple sources around the web.
Recommended Stories