Android 4.3 update for Samsung Galaxy S4 Google Play edition prevents apps from writing to microSD card
18
The Google Play edition of the
Samsung Galaxy S4
has
just received its update to Android 4.3
. But along with the update comes a problem that is affecting users' handsets. It seems that for some reason, the update to Android 4.3 brings with it a bug that prevents apps from writing to a microSD card. Any attempt to do so results in an
error message
. The reason for this is that the apps are not seen as in the right group to be able to write on the card. Hopefully, this will soon be corrected.
In the meantime, you can go to the Google Play Store and install
ES File Explorer
which happens to be in the right group for writing to and reading from a microSD card. If your phone is rooted, you can get into the files and make the appropriate fix yourself directly on the phone, or from your PC. In basic terms, you are telling your phone that it is ok to give permission to the
media-rw
group to write to the microSD card. Once you get into the /system/etc/permissions/platform.xml file, you need to focus on line 71. Check the photo below. All you are doing is adding that permission.
If you don't want to root your phone or you're worried about bricking it, you can always stick to ES File Explorer. And hopefully, a fix will be sent out soon.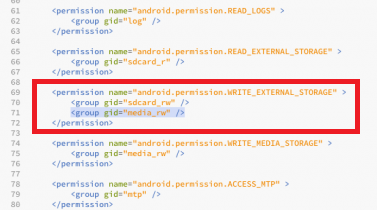 You can edit your phone to allow apps to write on a microSD card
source:
AndroidCentral