Android 4.2 finally coming to 'yakju' Samsung Galaxy Nexus, factory image is now available
16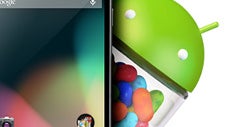 A week after
Android 4.2 Jelly Bean
first arrived on some Samsung Galaxy Nexus devices, it is finally landing on a wider set of the 2011 Google Android flagship. Last week it was the Galaxy Nexus 'takju' version that got bumped up (that would be the one most people purchased on Google Play Store), and now the 'yakju' international version of the device (the one you bought at a place different than the Play Store) is also getting updated.
The first reports of users getting over-the-air updates to 4.2 have surfaced, and most importantly Google has published the factory image on its developers' website. And how do you tell which version you have? There are plenty of apps with this kind of information on the Play Store and we personally used Android System Info which is free.
This means that even if the update has not yet appeared for a super easy OTA installation, you can skip the waiting time and manually install the 4.2 Jelly Bean on your 'yakju' Galaxy Nexus. If you run a custom ROM, you just flash the file below. If not, though, we recommend you skip over to the source link where there are more detailed instructions.
source:
Android Police