Android 4.1.2 rolling out to Nexus devices and AOSP
18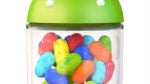 The newest version of Android is getting another bump today. Jelly Bean has gotten a bugfix pushing it to Android version 4.1.2. There have already been reports of the update rolling out to the Nexus 7, and the Android Development Team has said that the source code will be made available sometime today.
It seems that the update brings performance enhancements and fixes, and the big addition allows the homescreen on the Nexus 7 to be rotated into landscape view. According to the Android Development team, this fix is also necessary because:
Future variants ofthe grouper hardware will have a minor change in one of the components
(the power management chip) that will not be compatible with 4.1.1.
This obviously confirms that there will be variants to the Nexus 7 hardware, which we've all expected both from the new reports of a
32GB model
, and the older reports that there is a
space reserved
in the Nexus 7 chassis for a rear-facing camera.
The 4.1.2 update has already started rolling out to Nexus 7 users, so just keep checking in for it. The update is 31MB.
**Update** Word has it that the update has also started rolling out to unlocked Samsung Galaxy Nexus phones as well as the Nexus 7.