Android 4.1 Jelly Bean Review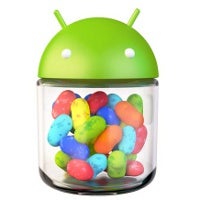 Android 4.1 Jelly Bean has finally started arriving on Samsung Galaxy Nexus devices in the last couple of days, and after we've spent just enough time to get used to the update, we can now say that we're left very impressed with what Google has done to Android. Here's why.

Jelly Bean is not the most prolific update Android has seen, but it patches just the right places, and takes the experience up a notch.

Project Butter



First and foremost comes Project Butter, Google's radical approach to exterminating lag on Android devices.

We remember the first time we got a dual-core phone in our hands last year. The handset was the LG Optimus 2X, which didn't make much of a splash eventually, but the true shock was that even with a dual-core processor it was laggy. It wasn't terrible by any means, but choppy frame rates when opening the app drawer and a couple of seconds to open even the most basic app like the dialer were definitely not our idea of top notch performance. Things have been improving slowly but surely since then, but even now with quad-core chips on phones, Android still lags here and there.

Good news is that this is largely put an end to in Android 4.1 Jelly Bean. Project Butter makes almost every one of the built-in apps tick and open extremely snappily. We've been using the Galaxy Nexus as our daily driver for quite a while, and after the update we were shocked at the increase in speed and smoothness. Actually, often times the 8-month old G Nexus would beat the Samsung Galaxy S III, that's how much of a difference JB makes.





Google Now



We know you're all curious about Google Now, and deservedly so. Google Now is basically an intelligent system that taps into your search history, calendar and locations to learn more about you and your lifestyle - where you work, eat, sleep. You access it by swiping up from the bottom of the screen. It might scare those who are frantic about security, but in exchange for your data, you get information relevant to your location and time automatically pop up on your screen.

Leaving home for work? A card would pop up with driving directions. Passing by a restaurant you looked up earlier? A card would pop up with the place and its menu. Your favorite team played yesterday? The phone will automatically give you a card with the score and highlights.

Best of all is that all that action happens without you setting up anything - completely automatic. Moreover, Google Now learns from your everyday routine and will guess what you want to do depending on the day and give you the relevant information in a card. Cards are basically just neatly formatted snippets of information. Right now, Google Now gives you cards with information about weather, traffic, appointments, transit information, flights, sports, places, translation and currency.

All of this is good and works well, especially in dense urban areas, but we feel Google Now is a good start to a future intelligent assistant, a system that will have a lot more information about you, a promise for tomorrow rather than today.

Google Voice Search



Android 4.1 Jelly Bean also introduces an improved Google Voice Search that now makes full use of Google's knowledge graph. Also, it understands you extremely well and often times speaks back to you in a shockingly natural and smooth voice. We liked Siri for what it promised to do - bring intelligent voice input to mobile phones, but Siri can only learn from Google's Voice Search.

The voice platform on Android is dramatically faster and more accurate, saving you tons of frustration. When it knows the answer from the Knowledge Graph, a neatly formatted white card will summarize it, and if not it will just search Google. Overall, we were very pleased with the search and happy to see it works in 21 different languages.


Lots of small other improvements



There are tons of other small improvements to the system that show Google's work on detail in Jelly Bean. Android head designer Matias Duarte has left his mark and you could definitely see some ideas from webOS with its brilliant gestures arrive on Android.

If we had to point out a single favorite vector of improvement in Android that would be exactly gestures. Now, they are baked into the gallery app where you flick images up to delete them (very useful when you snap tens of images with burst mode shot), into the notifications tray where you can preview emails by pinching in, into Chrome where you slide from the side to switch tabs and so on.

The notifications tray is one thing Google is really improving recently. In Jelly Bean, the dropdown window is less cluttered. Now, you can pinch in to expand a certain notification or long hold a notification to go into the app where it comes from and mute all messages from that app if it's bugging you.

We love the keyboard in ICS and in Jelly Bean it's even better. One thing we really like is the iOS-like globe button for quickly changing of languages, so you don't have to somewhat weirdly slide the space bar. Google is also bringing better dictionaries and predictions, for those who use them.

Finally, the interface has changed just a little bit with more whites contrasting in the lock screen and a brighter Google search bar to contrast the neon colors of ICS. Jelly Bean brings resizable widgets, so it's easier to arrange widgets across your home screen. Boot up time is also noticeably faster in Android 4.1.


Conclusion



Android 4.1 Jelly Bean would have been huge even if only for Project Butter. We were pleasantly surprised how much faster and smoother Android got on our Galaxy Nexus after the update. Google Voice Search is also a huge deal for drivers and those using voice more often - it's extremely accurate and mind-bogglingly quick.

Google Now is a very interesting attempt to leverage that huge amount of data we feed into our computers every day. We felt it was more of an interesting experiment for the moment, though - something we'd love to see in products like Google's Project Glass and in future technology.

Jelly Bean is a jump rather than a small step for Android. Question is how big of a jump and that's debatable. In our opinion, Project Butter makes the platform so smooth we'd rather be using a Galaxy Nexus that's starting to show its age with Jelly Bean rather than any other brand new phone at the moment, even the Galaxy S III. And that's telling, isn't it?