Android 4.0 Ice Cream Sandwich video preview
14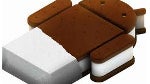 Tinkering with the Ice Scream Sandwich software on the
Samsung Galaxy Nexus
is indeed a fun experience, but how much fun would it be if we don't actually share our impressions with you? Not much. That's why we cooked this sweet little video preview right here, just for you. To make it happen, we worked with an early prototype of the Samsung Galaxy Nexus (see
our preview here
), so please excuse us for the absence of some stuff like the Android Market or the gallery app, for example. Those were just not available in the early build that was installed on our unit.
Still, much of the other crucial functionality like the new People app, messaging and the browser were all here, so there is some quite interesting stuff that you can see in the video below. For even more details on Ice Cream Sandwich though, don't forget that you can always read our
written ICS preview
, complete with screenshots for illustration. Enjoy!