Analyst says Apple iPhone 8/8 Plus sales will suffer in fiscal Q4 and rebound in the next period
39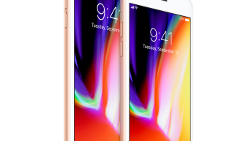 While some analysts see the delay in the launch of the
Apple iPhone X
helping to generate quick sales for the
Apple iPhone 8
and
Apple iPhone 8 Plus
, not all agree. Daniel Gleason, the senior analyst at Ovum, said that there are two types of iPhone buyers. Those who have to have the latest phone will be put off by the November 3rd launch date for the tenth anniversary model. Those who would be satisfied with the iPhone 8 or iPhone 8 Plus won't be rushing to pick up either model right away. As a result, Gleason expects those belonging to the latter group, waiting to check out the iPhone X before deciding which model to buy.
As a result, Gleason sees Apple's fiscal fourth quarter results negatively impacted by the late arrival of the anniversary edition. Normally, the launch of the new iPhone models every year has been a positive for Apple during the end of its fiscal fourth quarter in September. But if enough potential iPhone 8 and iPhone 8 Plus buyers decide to check out the iPhone X first before making a purchase, Apple will probably report lower fiscal fourth quarter revenue than it normally might have.
Gleason says that with the September 22nd launch of the iPhone 8 and iPhone 8 Plus, Apple will have eight days of sales to report for the fiscal fourth quarter. Normally, that would result in between 10 million and 12 million iPhone handsets getting sold during that period. But with some buyers waiting first to see what the iPhone X offers, the analyst sees Apple recording half the sales of new iPhone models for the quarter than it usually does.
"The iPhone X will potentially hamper and damage the sales of the iPhone 8 … that's a very big risk because the iPhone launch events in late September have always been a very very big sales event for Apple. They've always helped perk up their late Q3 numbers and led into very strong Q4s,"-Daniel Gleason, senior analyst, Ovum
Another issue affecting fiscal Q4 sales of the iPhone 8 and iPhone 8 Plus is that next year, the sequel to these two handsets ( most likely called the Apple iPhone 8s and Apple iPhone 8s Plus) will each reportedly feature an OLED screen. According to Abhey Lamba, managing director of Americas research at Mizuho, this could lead some consumers to hold off on purchasing one of the two standard iPhone models for another year
"We expect the company to include new display technology and offer an updated design next year when OLED screens will be more broadly available. As such, mainstream iPhone users might consider pushing out their purchases to next year when they can get greater innovation at a lower price."-Abhey Lamba, managing director of Americas research, Mizuho
The good news for Apple is that in the following quarter (fiscal Q1 of 2018), the delayed sales could get booked, giving Apple a better than usual kick off to fiscal year 2018. Analysts see the tech titan posting fiscal Q1 revenue of $86.8 billion, up from last year's $78.4 billion.
source:
CNBC