Analyst says 300,000 Pre's have been sold, expects WebOS device for Verizon in 2010
This article contains unofficial information.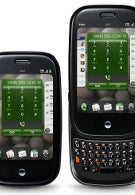 Edward Snyder, an analyst for Equity Research, checked with manufacturing and retail channels and has come to the conclusion that Palm has sold 300,000 units of the Pre. The analyst says that Palm has had trouble keeping up with demand. While most other guesstimates show half of Snyder's figure as the number of Palm's device that has been sold, the analyst is considered a pessimist on the industry and if this skeptic shows more phones sold than others, it could be a very positive sign for the entire smartphone business.
Mr. Snyder seeks Palm producing 15,000 units a day and predicts that 1 million Pre's will be shipped by Palm in the first quarter after launch. And while he says that Sprint still holds the exclusive rights to sell the Pre in the U.S., it doesn't stop another carrier from selling another phone with the WebOS operating systems and he predicts that Verizon will be offering one such model early next year, with AT&T following shortly thereafter.
Palm Pre Specifications
|
Review
source:
NY Times BITS