Analyst raises his target on Apple's stock to $540 from $450
3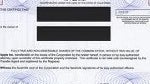 Needham and Co. analyst Charlie Wolf is
raising his target on Apple's stock from $450 to $540
. Wolf upgraded the stock on Friday, hours before S&P downgraded U.S. debt for the first time in history from AAA to AA+. Wolf increased the value that iTunes is adding to the worth of the stock by 82% to $27.52 as he cited the strength in app sales that other research firms are calling for. He forecasts that App Store sales will reach $13 billion by 2015 and is very bullish on
Apple's strength in software distribution
. The analyst also sees an increase of 51.6% in the value placed on the company as a whole by the Apple iPad, to $22.33 a share. Wolf told clients that the Apple iPad should capture a larger share of the tablet market than he previously was calling for. Apple closed Friday at $373.30 after dropping $3.75 for the day.
Apple's shares recently made a
52 week high
above $404 after
reporting strong Q3 earnings
. But in the last week, the broad market has suffered from the political infighting that almost prevented the U.S. from reaching a new budget cap and which almost led to the U.S. defaulting on its debt. As it is, S&P d
owngraded U.S. debt
after the close on Friday to AA+. Since Steve Jobs recaptured the CEO title, first on an interim basis from Gil Amelio on July 9th 1997, Apple's stock has risen 27 fold. Just 3 days ago, Apple was within $16 billion in market cap of surpassing oil giant ExxonMobile to be the world's most valuable company. Not bad for a firm that started in a garage.
source:
Forbes