Analyst: Windows Phone 8 will edge BlackBerry out of the enterprise
55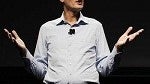 Microsoft has been less than fully forthcoming about all the features coming with Windows Phone 8. This has been apparent through a lack of any type of formal media release, but also apparent through how no one has been able to fully walk through Windows Phone 8 in a methodical manner to see the depth of the OS.
Microsoft still has released the
SDK to only a few "high-profile" developers
, and while the software developer's kit has leaked, there has been a lot of conjecture about Microsoft still keeping parts of the OS locked out from view. There has also been speculation that there may be issues related to
how well apps written for Windows Phone 7/7.5 may work on Windows Phone 8
and that has been cause for lack of information about the platform.
Another reason is based on what an analyst at Ovum believes, that Windows Phone 8 may be a potential "BlackBerry killer." Microsoft is clearly targeting business customers with the level of integration being built in to Windows 8, Office 2013 (and all the variants thereof, Web Apps, Office 365) and Windows Phone 8 and enabling all the platforms to work seamlessly together.
In addition to that deep integration, there have been tid-bits of information about vastly enhanced security features, including encryption software which protects not only the OS but the files stored on the device. Also included may be "app sandboxing" further protecting the device from malware and improvements to remote management by IT departments.
Given the near total lock that iOS and Android have on the consumer market, analysts predict that Microsoft is targeting making the biggest splash with their business-to-business segment.
"…with the security upgrade is one of the reasons businesses could be the key market for Windows Phone. Done properly with the right marketing, Windows could be a BlackBerry killer in enterprise."
No doubt
in addition to a massive marketing campaign
, Microsoft, and the Windows Phone 8 manufacturers for that matter, will need the support of the carriers to make that happen. Microsoft's push with Windows 8 on tablets is the other logical angle to get consumers to accept the totally different user experience that is Windows Phone.
Whether Windows Phone 8 can live up to that kind of hype is certainly arguable, but the fact that it is being discussed at all is telling. The business environment is still considered a relative safe haven for RIM, which has made security a cornerstone of its product line. Android has not yet measured up to meet enterprise standards, and while iOS cooperates well with Exchange ActiveSync, it lacks sorely in the arena of the larger enterprise environment where Microsoft commands huge mind-share.
source:
Mobile News CWP