Analyst: BlackBerry needs to replace BlackBerry 10 with Android
62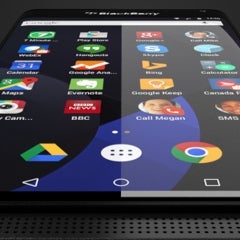 On the verge of introducing its first Android powered handset, the BlackBerry Priv
, one Scotia Capital analyst says that BlackBerry should abandon BlackBerry 10 altogether, and switch to Android for all future handsets. That seems to be the plan with the oddly named Priv, a slider expected to be released in November and
offered by all four major U.S. carriers
.
According to Scotia Capital analyst Daniel Chan, BlackBerry can save $266 million annually by getting rid of BlackBerry 10. The savings would come from dismissing 1400 employees that work on R&D. Chan also says that a switch to Android would easily allow BlackBerry to reach its goal of selling 10 million handsets a year, since that would represent less than 1% of the market for Android phones.
A switch to Android would also allow BlackBerry phones to run the full gamut of Android apps, which has been an issue holding back sales of BlackBerry handsets in the first place. According to the analyst, the only risk BlackBerry would face from switching to Android would be the alienation of two major customer groups, governments and corporations. Both depend on BlackBerry because of its focus on security and on maintaining a secure platform.
"While BB10, in our opinion, is technologically superior to many mobile platforms, it has failed to generate the recovery BlackBerry had hoped for and continues to be the primary source of losses for the company."-David Chan, analyst, Scotia Capital
But Chan says that BlackBerry's partnership with Samsung, and the latter's KNOX sandbox, could go a long way toward removing concerns that governments and corporations might have about BlackBerry making the switch. Keep in mind that BlackBerry cannot completely dump BlackBerry 10 for now, considering that the company still has contracts it has to fulfill first.
Thanks for the tip!
source:
FinancialPost