Analyst: Apple iPhone not immune to the laws of economics
31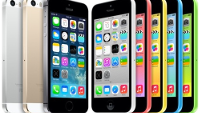 Needham analyst Charlie Wolf has noticed how Apple's Mac continues to sell in the face of a recession and a PC market that has taken the brunt of an assault by the expanding demand for tablets. But Wolf sees no such immunity for the Apple iPhone. The analyst told clients in a note issued on Tuesday that while the Mac "
seems to defy the laws of economics
," the Apple iPhone "
is not so fortunate
."
Whereas the Mac continues to grow its share of the PC market, the Apple iPhone's share of the smartphone market peaked in the fourth quarter of 2011 at 23.8%, according to Gartner. A year later, the iPhone's slice of the smartphone pie stood at 20.9%, a figure that declined even further to 17.8% in the fourth quarter of 2013.
Wolf notes that the Apple iPhone has lost "meaningful share" of the smartphone market in emerging markets in the Asia-Pacific, Middle East and Africa regions. These are areas where low-end models have been popular because of their price. The analyst says that there is nothing Apple can do as he doesn't see any way that the tech titan can drop the price of the iPhone to allow it to compete in those regions.
There is some good news for Apple's iconic smartphone. Wolf did point out that the Apple iPhone continues to increase its share of all mobile phones, including featurephones. Adjusted for seasonal fluctuations, the Apple iPhone had a record 10.2% of the worldwide mobile handset market in the fourth quarter of last year.
"The iPhone's loss of worldwide market share, then, is largely a composition effect, with smartphone sales migrating from developed markets, where the iPhone holds meaningful share, to emerging markets, where its share is far lower...in contrast to the Mac, we detect no halo effect surrounding the iPhone that can mitigate the difference in price between an iPhone and a decent smartphone. Nor do we see any way that Apple could reduce the price of an iPhone to compete in emerging markets."
-Charlie Wolf, analyst, Needham
source:
AppleInsider