An Apple iPhone survives the ultimate drop test, plummeting 9300 feet out of a plane
34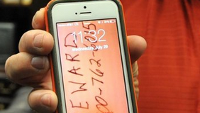 Ben Wilson just completed the ultimate drop test for the Apple iPhone. Wilson, the owner of Gas Corp. of America, was on a plane flying him and his pilot from Houston to Witchita's Kickapoo Airport when all of a sudden a pressure change caused a three-inch displacement in the door latch. While Wilson didn't actually see his iPhone get sucked through the opening, after landing he couldn't find it anywhere in the plane or in his briefcase. The device had plunged 9300 feet to the ground.
After getting a signal using the Find my iPhone app, John Kidwell, Gas Corp.'s vice president of sales, said that the iPhone belonging to his boss was tracked to an area outside of Joplin, Texas. Wilson and Kidwell trekked to Joplin clutching satellite imagery and a map.
Amazingly, the pair found the phone. Still clad in the Mophie Juice Pack it was nestled in when it had its free-fall out of the plane, the iPhone amazingly still worked, albeit with some scratching on the corners. Wilson summed things up by saying, "
It hit the corners a bit but it's just fine. The only missing part is the battery
."
After this fall, a five-foot drop onto a tile doesn't seem so threatening anymore.
source:
TimesRecordNews
via
NYPost