Ambitious case prototype comes with detachable cameras and tiny drone
2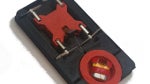 Cases have become a sort of a must-have with smartphones. Seeing as a short moment of clumsiness can often lead to the destruction of a pretty expensive handset, more users prefer to put protective wraps around their devices, at least when out and about.
And, since they are so oftenly used, why not embed more features into a case and make it a useful gadget? Some manufacturers are already doing this by making battery cases, or ones that enable wireless charging for devices that have none. But startup company named Buzz Technology is taking things to a whole other level.
A prototype case was recently demonstrated on YouTube showing a modular design, which houses a detachable camera with 3 different lenses for it, a magnetic clip to place it on various surfaces, an extendable arm, which gives the case selfie stick properties, and — underneat all that — a mini drone, ready to fly out of the case at a moment's notice.
Called Drone-In-A-Phone, the gadget will protect your handset and utilize its detachable camera and magnetic module to enable the user to take some risky shots without actually endangering the smartphone. The drone, on the other hand, will drain from the handset's battery when docked inside the case. The team says it's working on acomplishing a 25+ minute flight time, but don't think you'd be able to fly it too far – the little rascal will have to be tethered to your case at all times because it's so small that the wind might easily take it. The developers have also said they want to get the camera's resolution up to the 8 MP – 12 MP range.
The Drone-In-A-Phone is still in development and is planned to hit Kickstarter later this year, presumably when Buzz Technology manages to get through the technical hurdles that undoubtedly come when one tries to design such an ambitious "phone case". We'll have to wait and see if it ever becomes a reality.