Amazon's 10" Android tablet coming in Q1, the 7-incher in October, analyst predicts great success
3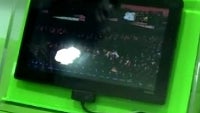 You already know who is claiming these things, but just in case we will mention that these are "
upstream component suppliers
" who have said that
Amazon's 10" "Hollywood" Android tablet will hit the conveyor belts at Foxconn in Q1 of 2012
. The smaller, 7" "Coyote" version, should be shipping as soon as this October from its OEM maker Quanta, to Amazon's warehouses.
Analysts are predicting huge success for Amazon's Android slates, mainly because everyone is expecting rock-bottom prices out of the box, sponsored by some sorts of integration with the Amazon shopping experience. A Forrester Research analyst even went so far as to predict that a year from now "Amazon" and "Android" tablets will be synonyms.
She expects the 7-incher that will launch in October to sell 3 to 5 million units in the holiday quarter alone.
Amazon's own orders ballpark range
is for about 800 000 to 1 million per month.
"Coyote" is supposedly powered by a dual-core Tegra 2 chipset, we have been tipped
, while the 10" "Hollywood" tablet should feature NVIDIA's quad-core Kal-El silicon. The first one was expected in September, but
Apple's iPad getting the bulk of available component supplies
might have pushed the release with a month or so.
We can't argue with the fact that a
low enough price seems to sell non-iOS tablets like nothing else
, but it all depends how basic Amazon can go. A $99 HP TouchPad won't be beat, but at $200-$250 the Amazon-sponsored model might certainly replicate the Kindle success.
source:
Digitimes
&
Forrester