Amazon takes on PayPal and Square with mobile payment accessory
5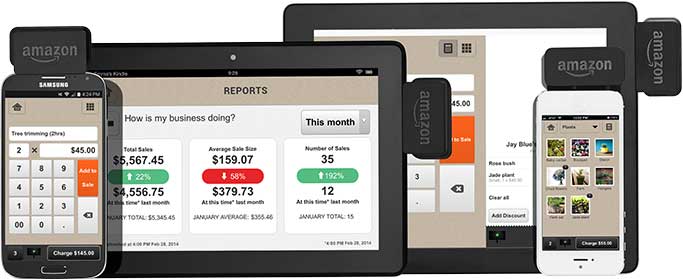 For a long time now, if you wanted to be able to accept credit or debit card payments on your smartphone, the choice was essentially between either Square or PayPal. We're not exactly sure why it took Amazon so long to jump into this space, but now Amazon has unveiled its own card reader, called the Amazon Local Register.
Unfortunately, Amazon's offering is far from perfect. Amazon is doing well to undercut the competition when it comes to pricing. Those who sign up before October 31 will receive a solid deal with a rate of 1.75% on transactions from now until January 1, 2016. After that date, and for those who sign up after October 31st, users will pay 2.5% on all swiped transactions. Comparatively, Square charges 2.75% per transaction, and PayPal charges 2.7%. And, the money you collect will be automatically deposited into your bank account the next day. That's a good option for users in terms of cost, but Amazon's option has fairly limited compatibility right now on Android devices.
If you're an iOS user, you're in the clear, because the Local Register works with the newest iPads and all iPhones going all the way back to the iPhone 4. However, the only Android devices that are compatible are the Samsung Galaxy S3, S4, and S5, as well as the Amazon Fire HD and HDX. Surprisingly, not even the new Amazon Fire Phone is listed in the compatibility. Even worse, the early reviews say that you cannot use your existing Amazon account, and are forced to sign up for a new account in order to use the Local Register.
If that still sounds like a good deal to you, it will cost $10 to get an Amazon Local Register card reader, but that cost will be credited back with the first $10 in processing fees. Amazon is obviously trying to offset those who would get a reader and never use it (for example, I have both a Square reader and a PayPal reader, and have never used either.)