Amazon smartphone rumors return, claiming 3D user interface
3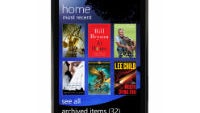 There have been persistent rumors that Amazon is working on a pair of
smartphones
to add to its Kindle Fire tablet line. The original reports from last year claimed that one of the smartphones would feature a
3D display
. Luckily, that rumor hasn't stuck around, but it seems that may have been a misinterpretation to begin with because the new rumor claims that one of the devices will have a 3D user interface.
The original rumor from The Wall Street Journal called for a 3D display with "eye tracking", but the new rumor changes that slightly. According to sources, the Amazon smartphone codenamed "Smith" will use a combination of four front-facing cameras to track a user's head and eyes in order to display 3D effects and perspectives in the device UI. Only one user will be able to see the 3D effects, but the display is not expected to be 3D, this is all software. Apparently, the software will allow the user to "peek" around objects on the display. Although it's hard to imagine a necessary use of such a feature, it could add a cool effect to the FireOS bookshelves.
The device is also said to offer an automated version of the picture-matching service that Amazon has been working on in its mobile apps. For a few years now, Amazon has offered a service where you can take a picture of any object in the real world, and it would have an actual human find a similar item in the Amazon store. That process has been somewhat automated with matching books, movies, music, etc, but the rumors suggest that Amazon wants to automate the process for all items, which would be an impressive feat.
The rumors also mention that the other smartphone in the works (codenamed Project B) will be a "cheap" phone, but not necessarily a
free phone
as has been suggested before. Project B would have the basic FireOS software and lower-end specs, and as with other Kindle devices would be partially subsidized with on-device advertisements.
Rumors suggest that neither smartphone is expected to launch this year.