Google is no longer the second largest global manufacturer of this red hot tech product
10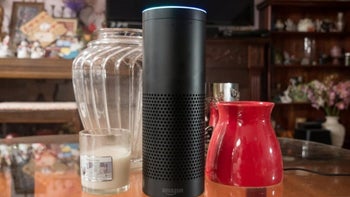 The smart speaker market remains one of the most compelling growth stories in tech.
According to the latest report from research firm Canalys
, global shipments of the device hit 26.1 million units during the second quarter, up 55.4% year-over-year. That's a growth rate that would make most consumer electronic products turn green with envy. 9.3 million additional speakers were delivered during the three month period when compared to the same quarter last year.
Continuing to lead the industry is category creator Amazon. The manufacturer of the Echo line of speakers shipped 6.6 million units from April through June, a 61.1% improvement on an annual basis, and good enough for a 25.4% global market share. The big news is that Google has been replaced as the second-largest global speaker manufacturer by China's Baidu. Canalys cites the latter's "aggressive marketing" as one of the reasons why it outshipped Google during the quarter. Baidu delivered 4.5 million smart speakers during the period compared to 4.3 million for Google. But as the research firm points out, neither company competes with each other in the markets that they sell their speakers to. And 45% of Baidu's shipments were made up of smart displays. Baidu and Google owned 17.3% and 16.7% of the global speaker market, respectively. On an annual basis, Baidu saw its speaker shipments soar 3700% during the three-month period.
Amazon and Google are both focused on shipping more speakers out of the U.S.

Following Google, Chinese conglomerate Alibaba was next, shipping 4.1 million units during the three months. Despite increasing its deliveries by nearly 39%, the company couldn't keep up with the overall market and it's market share declined from 17.7% to 15.8%. And in fifth place was Xiaomi with shipments of 2.8 million speakers and a 14.1% slice of the pie. If you're wondering where Apple and its HomePod smart speaker lies, it is lumped into the category marked "others." That group delivered a total of 3.7 million speakers for a 14.1% market share.
The U.S. market, according to Canalys, was softer with shipments declining 2.4% to 6.1 million units during the three-month quarter. Canalys senior analyst Jason Low blamed the decline on Amazon and Google's focus on growing demand for their speakers outside of the country, and on Google's rebranding of its line from Google Home to Google Nest. Low says that Google "urgently" needs to revamp its smart speaker line and produce a "robust marketing strategy to build its Nest branding outside of the U.S." During the quarter, half of Amazon's speakers were shipped to countries other than the U.S., up from 32% sent overseas during the second quarter of 2018. Google shipped 55% of its smart speakers outside of the states from April through June this year, up from 42% in 2018.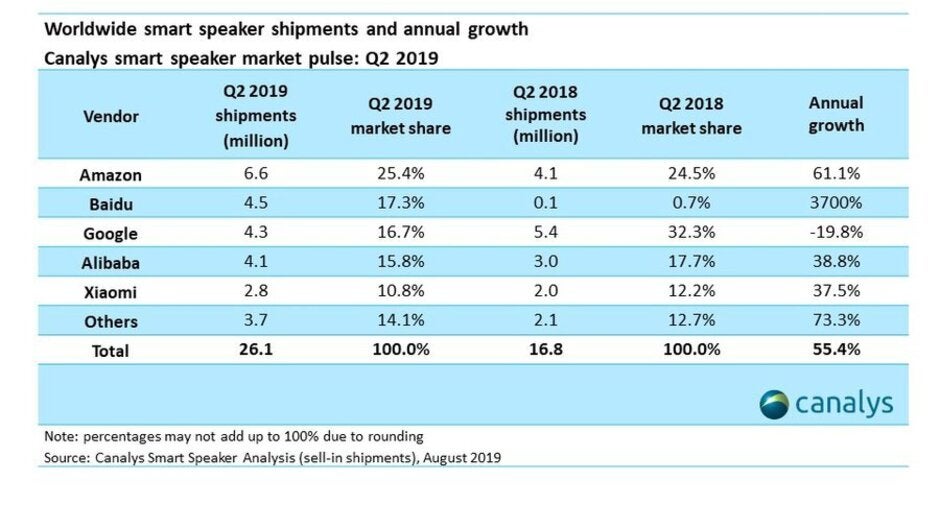 With Amazon still on top, Baidu surges past Google to become the second-largest global manufacturer of smart speakers
Just last week, a report indicated that
Google was in the process of making changes to its entry-level Home Mini speaker
. Besides getting a new name (the Google Nest Mini), the revamped speaker will be a bit larger than its predecessor and offer higher quality and louder audio. It also will be equipped with a 3.5mm earphone jack. Canalys also said that smart speaker manufacturers are in the process of producing more complex devices, many featuring a touchscreen display.
"Despite feeling upbeat about the market outlook, vendors are wary about the price sensitivity toward the relatively new category of smart displays. Experimentation with different price points and value propositioning strategies are to be expected. However, uncovering new and unique use-cases with a strong focus on voice-first interface on smart displays should be the top priority for vendors."-Jason Low, senior analyst, Canalys
A recent report noted that
Apple is looking to create a cheaper version of the HomePod
. The company will reportedly equip the new model with two tweeters instead of the seven employed by the current version. While that might address the price issue with the device, Apple will still need to do something about its Siri digital assistant. Google Assistant is considered by many to be the best AI helper with Amazon's Alexa and Siri trailing behind.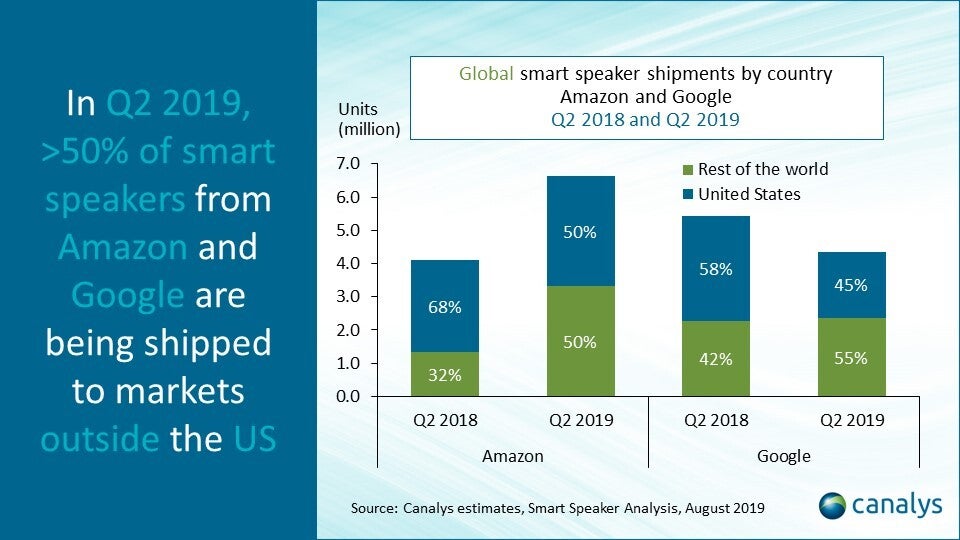 Amazon and Google shipped more speakers out of the states during the second quarter