Possible overheating and chemical burn risks force Amazon to recall 260K power banks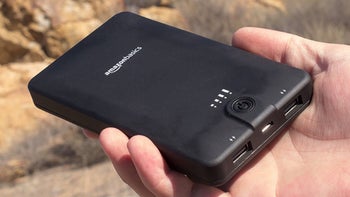 While many of us are totally addicted to our smartphones, often the one piece of hardware that we make sure never to leave the house without is our power bank. After all, what good is the handset in your pocket if the battery is dead; you might as well carry around a brick. The power bank evolved from those battery cases developed by companies like Mophie. Remember those early Juice Packs? The first one was made in 2007 for the original
Apple iPhone
, taking advantage of Apple's decision (unusual at the time) to seal in the battery that powered the device.
The power bank industry has grown tremendously. You can go to almost any retail store and find a 3000-5000mAh battery pack for $5. Prices have come down so much that a 20,000mAh power bank can be purchased at Walmart for only $11. Amazon also has a wide selection to choose from, including its own AmazonBasics brand. However, the Consumer Product Safety Commission is having Amazon recall six different models of its power banks. According to the CPSC, "The power bank's battery can overheat and ignite, posing fire and burn hazards."
The models involved in the recall include:
16,100 mAh-Product ID B00LRK8EVO
10,000 mAh-Product ID B00LRK8HJ8
5,600 mAh-Product ID B00LRK8I7O
2,000 mAh with micro USB cable-Product ID B00LRK8IV0
3,000 mAh-Product ID B00LRK8JDC
3,000 mAh with USB micro cable-Product ID B00ZQ4JQAA
The government agency says that the recall covers about 260,000 units, and if you do own one of the recalled power banks, unplug it immediately and stop using it. You can call Amazon toll-free at 855-215-5134 from 8 am to 5 pm EDT, or go to www.amazonpowerbank.expertinquiry.com to register your power bank and receive a full refund. Amazon is sending out pertinent information to all known customers. So far, there have been 53 reports of the battery inside the pack overheating, and one user received a chemical burn when he accidentally came into contact with acid from the battery. Four cases of property damage have also been made known to Amazon.
These power banks, priced between $9 and $40, were sold from December 2014 through July 2017 at Amazon.com, Amazon Bookstores and Amazon Pop-Up Stores. They were made in China by Guoguang Electric Company Limited. If you have used any of the recalled power banks and have experienced a problem, you can report it by clicking on the sourcelink.
source: CPSC