Amazon joins Best Buy, calls Verizon's new phone "Samsung Galaxy S II Nexus Prime 4G"
32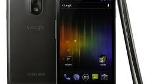 Yesterday, when we showed you the latest flyer from Best Buy
that listed the Samsung GALAXY Nexus as the Samsung Nexus Prime 4G LTE
, we thought that perhaps the copy writers for Best Buy had been drinking too much coffee, trying to stay awake with Black Friday coming soon. But perhaps Best Buy is getting the last laugh here as there seems to be confirmation that the Verizon variant of the phone will indeed be called the
Nexus Prime
. And in addition, there is even some confirmation that the phone is being considered as part of the Samsung Galaxy S II line which would explain the picture on the cover of the Best Buy flyer which shows what we thought was the GALAXY Nexus flanked by the AT&T and Sprint versions of the Samsung Galaxy S II.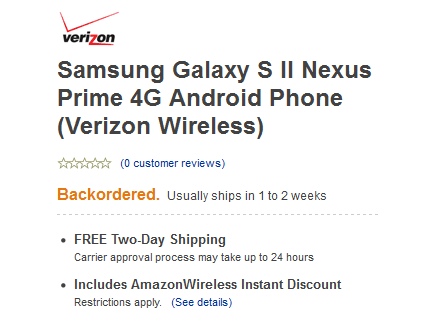 Amazon's listing for the "Nexus Prime 4G"
Apparently, a Verizon customer had just purchased the
HTC Rezound
on Amazon when he noticed a listing on the site for the "
Samsung Galaxy S II Nexus Prime 4G Android Phone
". The listing showed the device available through Verizon, but was currently on backorder. Of course, there has been no launch date announced for the phone by Big Red.
We are struck by the similarities between the Best Buy and Amazon titles for the phone. Remove the "Samsung Galaxy S II" prefix from the Amazon name and you have a match. While it might be important to know what name Verizon plans on selling the phone under, for long suffering customers of the carrier who have been waiting a long time to hold one in their hand, it could signal that
we are close to getting a launch date
from Verizon.
source:
Amazon
via
Phandroid
**UPDATE
**
A leaked screenshot of the web page used by indirect Verizon resellers to order their inventory of the first Android 4.0 phone, show that the title of the device remains the Samsung GALAXY Nexus.
source:
AndroidCentral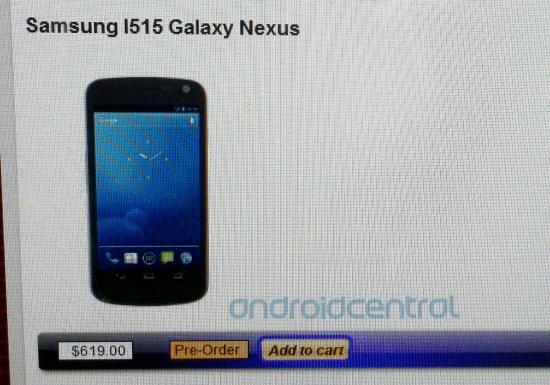 The first Android 4.0 phone for Verizon will still be called the Samsung GALAXY Nexus