Amazon U.K. has Samsung Galaxy Tab for sale, priced well above iPad
8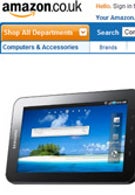 Although the launch date for the Samsung Galaxy Tab in the U.K. remains unknown, the Android flavored tablet is listed on Amazon U.K. at a price that is above an equivalent iPad model. After the VAT, the cost of the Galaxy Tab is 680 BP which is equivalent to $1,063 U.S. for a device with a 7 inch screen, 1GHz Hummingbird processor and Android 2.2 installed.
The closest iPad to this Galaxy Tab would be the 16GB model with 3G that is priced at $827 U.S. In this case, paying more could give you a smaller amount of real estate. But on the other hand, Apple's tablet offers no front or rear camera, microSD card to add memory, and does not support Bluetooth 3.0. Tablet buyers will have a tough choice to make although we would imagine that those familiar with Android would lean toward Samsung's tablet while iOS devotees would pick the iPad.
Parts of Europe will be receiving the Galaxy Tab this week and the device will be introduced in the States tomorrow at which time we would expect to get some solid launch dates for potential U.S. buyers.
Samsung Galaxy Tab Preview
Apple iPad Review
source:
electronista