Amazon Prime Now: When you got to have it RIGHT NOW, with iOS and Android apps and one-hour delivery
4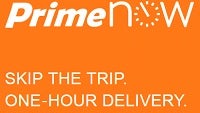 Mobile devices have enabled some amazing things for us to accomplish. Like Twitter's CEO cited once upon a time, we have the "
internet in our pants
," and that is a powerful thing.
One of the things this mobile revolution has further enabled is the whole feeling of instant gratification. We can find information or connect with people in a variety of ways anytime we want.
Now, if you live in select parts of Manhattan, Amazon has launched
Prime Now
, which takes Amazon's already available (in several cities) "Get it Today" same-day delivery feature, and accelerates gratification by delivering any of tens-of-thousands of items ordered within a two-hour window. You have to be a subscriber to Amazon Prime which costs $99 per-year.
The two-hour delivery window is free, but when you just need it faster, you can get it within the hour, and for that, there is an $8 fee. While Amazon plans to roll Prime Now across various metropolitan areas in the future, right now only certain parts of Manhattan are eligible. There is a Prime Now app available in iTunes and Google Play though, and the app will provide a notification when (or if) the service arrives in your locale.
Prime Now is being run and distributed from Amazon's new-ish facility on 34th Street. If you were thinking that the window for deliveries was limited, the hours of availability might surprise you.
Amazon Prime Now is available from 6:00am to midnight, seven-days-a-week.
After you have placed your order, you can use the app to track delivery progress.
Providing this service is clearly aimed at "first-world problems." Dave Clark, Amazon's senior VP of worldwide operations puts it plainly, "There are times when you can't make it to the store and other times when you simply don't want to go. There are so many reasons to skip the trip and now Prime members in Manhattan can get the items they need delivered in an hour or less.
For now, residents in these zip codes of Manhattan can take advantage of Amazon Prime Now, 10001, 10010, 10016, 10017, 10018, 10018, 10020, 10022, and 10036.
While it does look like a whole lot of premium convenience, in reality it will clearly be a net benefit for a lot of people. For example, if you have a cold or other illness, you can order tissue, sanitizer, cold remedies (like NyQuil or VapoRub), and other items with Prim Now, thus saving you the trip outdoors, and sparing everyone around you from catching whatever bug you might have. Of course, if you do not like going out or dislike people in general, this could prove to be an invaluable service.
On the other side of that coin, if you by chance just got home with your new super-cool top-of-the-line smartphone, but forgot to pick-up a microSD card, well, a 64GB SanDisk is $35 on Prime Now. Heck, why go to the store to buy a smartphone or tablet at all when you can order one with Prime Now? Grab the app via the links below.
Amazon Prime Now:
iTunes | Google Play
Recommended Stories