Amazon Kindle Fire may sell 5m units in the holiday season
5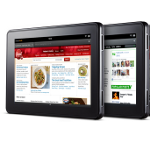 There is a reason why Google has pushed its Nexus device releases for November last year and this year. It's the same reason why Apple shifted its iPhone 4S release to October rather than the traditional June/July, and why Amazon is launching its Kindle Fire tablet in November: the holiday season is a time for big business in consumer technology. And, an analyst for JPMorgan thinks Amazon will definitely be making a ton of sales this holidays season.
JPMorgan analyst Douglas Anmuth said in a recent research note that he believes Amazon can sell 5 million Kindle Fire tablets in Q4 this year. Given that Amazon received
95,000 pre-orders
in the first 24 hours and
250,000 in the first 5 days
, the demand is there and some say may even exceed that for the Apple iPad, possibly because it's hard to argue with a $199 price tag.
For comparison, Apple sold 4.7 million iPads in Q2 2011 with the release of the iPad 2. Of course, the big difference here is that Apple turns a tidy profit on each iPad sold, while Amazon is using its Kindle Fire tablet as a
loss-leader
in hopes of making up the difference with sales in its various content stores for books, music, video and apps. Still, 5 million units would instantly give the Fire an install base almost equal to the entire Honeycomb tablet install base that has been building all year.
source:
Venture Beat