Amazon Kindle Fire HD gets dissected
2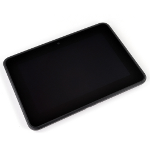 Remember in high school when you would be forced to dissect a frog? Most students didn't like doing something so gross. On the other hand, there were the minority who got off on the assignment. Those were the kids who grew up to become doctors or who ended up working for iFixit, tearing down mobile electronic devices. The latest product to go through a teardown is the
Amazon Kindle Fire HD
tablet.
This version of the online retailer's tablet line has a
7 inch screen with resolution of 1280 x 800
and features a dual-core 1.2GHz TI OMAP 4460 processor driving the tablet. A 1.3MP front facing camera comes with the device, which is available with 16GB or 32GB of native storage. The former will cost you $199 while the latter wears a $249 price tag.
Both the entry level Amazon Kindle Fire 2 and the Amazon Kindle Fire HD
are now shipping
. The other two models, the
Amazon Kindle Fire HD 8.9
and the
Amazon Kindle Fire HD 8.9 4G LTE
will be released on November 20th, just in time for the holiday shopping season.
source: iFixit