Alphabet overtakes Apple as the world's most valuable company based on enterprise value
72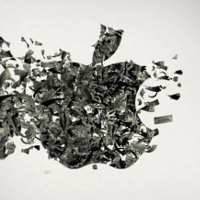 On August 11th, 2001 we told you that based on market capitalization (stock price multiplied by shares outstanding),
Apple had become the world's most valuable company
surpassing Exxon-Mobil at the top. By early 2013, Apple's shares had dropped nearly 40% after peaking on the launch date for the
Apple iPhone 5
.
Exxon-Mobil briefly took over at the top
once more. But the tech titan soon regained the title as the world's most valuable company.
However, the combination of a weak stock market and forecasts from some analysts that Apple will soon report its first year-over-year decline in iPhone sales, has some investors running for the exit. While Apple still is ranked number one based on its $535 billion market cap, it has fallen to number two when using enterprise value. This involves adding debt and subtracting cash, and provides a more accurate look at the value of a company's business.
Apple's enterprise value of $393 billion has the company second to the $420 billion enterprise value of Alphabet. Yes, that is the holding company that owns Google. In computing its enterprise value, Apple is being penalized for its large holdings of cash.
While 43 analysts on Wall Street are still posting a target of $143, one by the name of Adnaan Ahmad has a target of $85 for the stock. He sees similarities between what Apple is going through and what happened to former smartphone powers Nokia and BlackBerry. In case you want to write off Ahmad as a lone nut, consider that with Apple currently trading at $99, the stock is a lot closer to his target than it is to the rest of the Wall Streeters that follow the company.
"Looking back at history on when a company starts to face a growth question mark, [it] does not bode well for Apple in the next two years unless it comes up with a major new product category."-Adnaan Ahmad, analyst
Apple's stock fluctuations affect Main Street just as much as it does Wall Street. Most mutual funds are loaded with the shares which means that you could be the world's number one Apple hater, but still have to rely on the company's success to have a prosperous retirement.
source:
FinancialTimes