Alleged iPad mini cases photographed again
6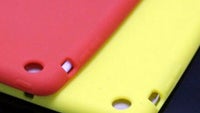 Make of it what you will, but it is claimed that the cases you see pictured below are tailored for a a smaller iPad model, or the iPad mini, as this rumored device is commonly being referred to. In other words, Chinese accessory makers are producing protective cases for a device that we don't even know whether it is real or not. Should we bother analyzing this set of photos? Perhaps not, but let us for a second assume that the cases are genuine.
In that case, then the rumored iPad mini will come with a camera on its back, albeit without an LED flash for those tricky low-light moments. The opening on the front of one of these accessories reveals that a front-facing camera will also be present. Another thing we notice is how thin the bezel of the tablet is, which, if true, would make it interesting to find out whether the device will be comfortable to hold. We should also point out that the cases appear quite similar to
those that were leaked in July
, right down to the positioning of the openings for the back camera and the buttons on the side. Could this mean that they are real indeed, or could the cases be simply manufactured by the same maker? We can only guess.
The iPad mini is expected to be unveiled in September or October of this year, and rumor has it that it will have a 7.85-inch display. It has been the subject of speculation for the past several months, and it won't be surprising if these accessories are just fakes used by someone to get some virtual attention. What is your call on this one, guys – real or fake?
Recommended Stories