Alleged iPad mini 4 case leak confirms lack of mute switch
11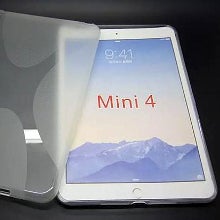 The
iPad mini 3
upgrade features, compared to its predecessor, were so miniscule, that Apple barely devoted a few minutes on its announcement last year. The folks from Cupertino left the iPad mini 3 largely unchanged from its already svelte predecessor in terms of design, but included a Touch ID fingerprint scanner, which means you can now use it with
Apple Pay
- the company's budding mobile payment system. There's a new golden color option, and the 32 GB model has disappeared in favor of a 64 GB one, but that's about it - other than those it sports the dimensions and silicon of its predecessor.
The eventual move from the iPad mini 3 to an iPad mini 4 this year, however, might turn out to be more significant, judging from the
leaked photos and video
of its alleged casing back in the spring. Now, a soft silicon case, claimed to be for the iPad mini 4, has appeared, indicating we might be nearing its launch, as case makers start gearing up for that well ahead of the official announcement.
The Apple iPad mini 4 is allegedly coming in the fall with an updated, thinner design, a single row of speaker grill openings, a mic in the place of the mute switch, and a lot of improvements under the hood, such as the new
A9
processor, and 2 GB of RAM. Naturally, it is also expected to run the newest
iOS 9 with its heavier emphasis on multitasking
, especially on tablets.