Alleged Samsung Galaxy S7 chassis leaks
48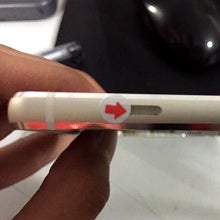 No rumor season is complete without a chassis leak, and that has been the missing piece of the puzzle with the
Galaxy S7
speculation so far. Not any more, though, as the open prairies of the Chinese blogosphere today spat out a shell that the source claims will be housing the S7 when it launches
some time in late February/early March
, as is the general knowledge so far.
If the leak holds water, the side shot of the frame exemplifies recent comments that
the Galaxy S7 won't differ significantly in design from the Galaxy S6
- not that anyone expected Samsung to make a radical redesign just a year after its new glass-and-metal build concept introduction. The corners of the piece when lying down look more straightened-out than the current
S6
design, and more rectangular than even the side shot that is in the same set here, so we'll reserve judgement for when there is more credible info about the eventual S7 design.
Otherwise, there isn't much else that can be gleaned from this pierced piece of metal, except an eventual USB Type-C port and a lack of the S6 speaker grill openings at the bottom here. There are also various openings for cameras, speakers and the like, whose cornered positioning looks rather funky, if the S7 design is to mirror that of the S6 and its camera hump right smack in the middle of the upper rear, what do you think?