Alleged Ice Cream Sandwich screenshots leaked
32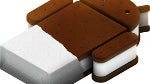 It seems too good to be true, and probably is: the first screenshots of the next major Android OS update, Ice Cream Sandwich (ICS), have supposedly leaked, but certainly don't look too convincing. Ice Cream Sandwich is the update which will merge Android's phone OS (Gingerbread) with the tablet OS (Honeycomb), and bring what many expect as a unifying presence to Android. The images show what is supposedly ICS running on a Nexus S.
Most notably the greens of Gingerbread have been traded in for the Tron blue of Honeycomb. We can also see a dock redesign, which is decidedly more like iOS. If Google is trading in the standard phone-app tray-browser dock for a four icon dock, we're at least hoping that Google will borrow some of the more advanced features found in alternative Android launchers like Launcher Pro (multiple rotating docks would be pretty nice as a standard feature.) The cell signal bars icon has also been changed, and the notification tray looks to have gone full black, rather than black background with grey notifications.
Other than that, the images don't show anything that's radically different from what we already have in Gingerbread. Choosing blue as the unifying color makes sense, and more blacks make sense in Google's push for more OLED screens. There is some info given that can't be confirmed in the images:
Camera has a panorama mode
Comes pre-loaded with Shopper to take advantage of NFC
Gmail will be completely re-themed
Search bar embedded on top like Honeycomb
Menu for adding apps/widgets looks more like Honeycomb
Since it's mostly UI changes, it's likely ICS will run on most phones
Though, these images are most likely fakes. The lack of on screen function buttons is reasonable, because presumably those wouldn't show up on a device with capacitive buttons. But, as our vigilant reader Sniggly pointed out, Google never puts the version nickname in the about menu, so the fact that it reads "Ice Cream Sandwich" rather than 3.x is very suspicious, although could be understandable if we believe that Google hasn't yet decided if ICS is version 3.x or 4.x. There's also no good reason to black out the end of the Kernel version unless you want to cover up a mod tag. And, speaking of the kernel, ICS was allegedly supposed to use kernel 3.0, and the kernel version number in the screenshot is the same as the kernel for Gingerbread.
Now, there have been Google engineers and supposedly close sources that have confirmed the logic behind all of our concerns, so there is a chance that these pics are legit. But, really, if they are real, ICS even in its early stages is looking pretty weak. There's a chance the pics are real, but we kind of hope they aren't.