All Nokia devices to have NFC from now on, will play well with others
3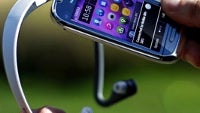 Nokia's had NFC handsets for a while now, like with the
Nokia 6131 NFC
in 2007, when the
Near Field Communications tec
h was still an obscure but promising future path that the industry might take for mobile payments and the like.
Now the world's largest handset maker by volume announced at its Hong Kong presentation that
all of Nokia's devices will have an NFC chip inside going forward
, which will certainly help to spearhead the adoption of this technology, considering it sells about a 100 million smartphones each year.
Nokia's VP Ilari Nurmi also said that the NFC-enabled devices from Nokia will include its speakers, Bluetooth or regular headsets as well, and, together with phones, they will be compatible with all other NFC gear out there: "
From now on, all of our products will have an NFC chip inside. All other NFC-equipped devices can also link to our products
", vouched Nokia's VP.
As if to back his words with action, all three new Symbian handsets that the company released -
Nokia 600
,
Nokia 700 and 701
- are equipped with NFC chips. The
uber-cheap Nokia 100 and 101
, however, are not, so we take it Ilari Nurmi might have meant "all but the most basic featurephones".
source:
BangkokPost
via
Symbian-Freak
Jiepang (Real Love ● Check-In) from Jiepang on Vimeo.