Nearly one-year after announcement, Alexa and Cortana are integrated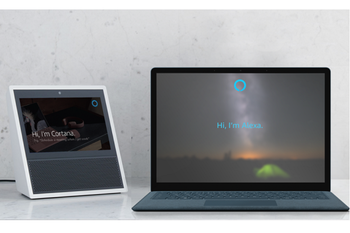 Last August, Microsoft and Amazon made an interesting announcement. Those using Microsoft's Cortana virtual personal assistant will be able to access Amazon's Alexa assistant and vice versa.
While the collaboration was expected to start late last year
, apparently both firms needed more time to sync their assistants. Today, the sharing begins.
Both tech giants are calling this a public preview, but if you own an Amazon Echo, you can say "Alexa, open Cortana" and you'll be able to use the latter's calendar scheduling or email related features. On a compatible Windows 10 PC or a Harman Kardon Invoke smart speaker, you can say "Hey Cortana, open Alexa," and you'll be able to shop on Amazon or control some smart appliances. Eventually, the companies will push Cortana as the assistant to use for work and productivity related tasks, while Alexa will be employed on the personal side.
Currently, Alexa has 45,000 skills compared to just 250 for Cortana, but this tie-up could lead developers to show more support for Microsoft's digital assistant, which was originally developed for Windows Phones as a challenger to Apple's Siri and Google's
Google Assistant
.
The tie-up between Cortana and Alexa will be available in the U.S. only at first, and both companies are requesting that users provide them with feedback that can be used to improve the feature. At first, some features that either assistant can easily handle will not be part of the collaboration. That includes tasks like setting alarms and timers.
"This is just the start for Alexa and Cortana, which means features like music, audio books, and flash briefing will not be available immediately. But the experience will continue to improve as we work with Microsoft to add new capabilities and features over time. And because Alexa is always getting smarter, the experience will get better the more you use it."-Amazon
According to Amazon, Alexa users can ask Cortana:
"What new emails do I have?"
"What's on my calendar for tomorrow?"
"Add 'order flowers' to my to-do list."
and Cortana users can ask Alexa to:

"Turn on the lights"
"Play Jeopardy"
"What's my order status?"
"Add milk to my shopping list"
Both Microsoft and Amazon say that the list of features available to both Alexa and Cortana users through this integration, will expand over time.