Alexa's "Away Mode" skill uses recorded conversations to make burglars flee your empty home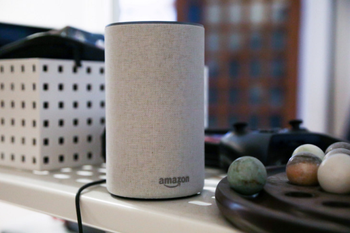 A new free "Away Mode" skill available for Alexa, plays one of several long, humorous, and phony conversations in an attempt to trick a burglar into thinking that there are people at home. Created by Hippo Insurance, the conversations were created by writers who have written for
Saturday Night Live
and
It's Always Sunny in Philadelphia
. According to the Alexa app, "It's like that scene from Home Alone, except instead of cardboard cutouts, it's insufferable conversations."
The conversations that users get to choose from include:
Mom​ ​Walks​ ​Daughter​ ​Through​ ​Assembling​ ​a​ ​Malm​ ​Dresser​ ​Over​ ​the​ ​Phone.
Couple​ ​Has​ ​Breakup​ ​While​ ​Also​ ​Trying​ ​to​ ​Watch​ TV.
Two​ ​Average Guys​ ​Brainstorm​ ​What's​ ​Unique​ ​About​ ​Themselves​ ​so​ ​They Can Start a Podcast About It.
Passionate Argument Over Rules of Complicated Board Game.
Emergency​ ​PTA​ ​Meeting​ ​to​ ​Discuss​ ​Memes,​ ​Fidget​ ​Spinners,​ ​and​ ​Other​ ​Teen​ ​Fads.
While 36% of users reviewing the skill gave it the top five-star rating, 31% rated it only one-star. Our fear is that it could backfire and the conversation becomes so interesting that the burglar lingers inside your home to hear how it all plays out.
Once you enable the "Away Mode" for your Alexa powered device, you can start it by saying "Alexa, run Away Mode."