Alcatel's monstrous 17-inch FHD tablet gets price and release date
17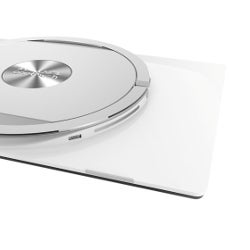 Electronics trade shows and exhibitions play host to all manner of announcements. Some pertain to products that we've been trailing for months prior to the unveiling, while on other occasions, companies surprise onlookers with something new and audacious. Alcatel's showcasing of the
OneTouch Xess tablet
back at last year's IFA caught everyone unawares, thanks largely -- if you'll excuse the pun -- to the 17-inch display. With a slew of quirks that one might not find elsewhere, it's an interesting concept, and one that will hit shelves in two weeks' time.
As much as it may seem, the OneTouch Xess is not simply designed for giant human beings. Rather, Alcatel sees the device as a 'kitchen tablet'; a central hub that can be utilized by the entire family. The accompanying features, like bundled Nickelodeon content and a free IP camera for keeping a check on other rooms of a household, suggest that the OneTouch Xess is a slate is geared towards those with youngsters around.
Tech. specs include a 1.5 GHz MediaTek octa-core processor, 3 gigs of RAM and 32 GB of expandable storage. A monstrous tab wouldn't be complete without an equally energetic battery, and the OneTouch Xess' 9600 mAh juice pack should keep the device's wealth of functions ticking along nicely
Though it has its practical aspects, it's an entertainment device at heart. Along with the pre-loaded media content, the large panel is a full-HD offering, and Alcatel has teamed up with JBL Audio to deliver a dual, 3-watt speaker experience.
If you're keen to get your hands on the beast, it will be available from April 22nd at a $499 price point.