Alcatel announces octa-core Idol X+ with companion Bluetooth wristband in China
7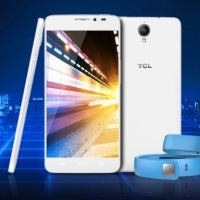 China's TCL, better known as Alcatel, has launched a new flagship smartphone - the Idol X+. Its name doesn't deceive you - it's an updated version of the Idol X. The differences between the two devices are an eight-core CPU, a battery upgrade (from 2000 to 2500mAh) and a small increase in thickness. At 7,9mm the Idol X+ is a little thicker than the Idol X's 7mm, but the + sign in its name is no accident, after all.
While its predecessor boasted a quad-core CPU from MediaTek, the Idol X+ is the first device to feature the Taiwanese chip-maker's octa-core MT6592 processor that, not long ago,
got Qualcomm all worked up
. According to the results from CF Bench, which you can see in the slide-show, the Idol X+ is more than two times faster than the previous model, which seems in-line with the doubling of processing cores.
The eight-headed beast at the heart of the Idol X+ is complemented by 2GB RAM, 13MP f/2.0 rear camera and a 5-inch 1080p IPS display. Unlike its predecessor, the Idol X+ probably supports LTE networks, thanks to the MT6592's built in modem. However, we are only speculating on this matter.
Previous rumors on the Idol X+ predicted that its package will include both a wristband and a smart-watch, but ultimately, the smartphone is accompanied by the Boom Band - a wristband with a Bluetooth chip that acts as a proximity alarm and activity tracker. We'll have to see if the Boom Band will make the wearable market explode. It's a safe bet, though, that an Alcatel smart-watch will eventually appear.
The Idol X+ and its companion wristband will be sold for about US$330 (CN 1,999) unsubsidized, which sounds like a steal. However, availability outside China is still in question. As far as we know, the Idol X still hasn't made it to US carriers.
source:
Engadget
,
Alcatel (Weibo)