Qualcomm video promo takes aim at MediaTek; it's not the quantity of cores, it's the quality
35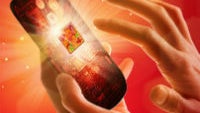 So what is better, the quality or quantity of cores on a processor? If you listen to Qualcomm, it is the
quality
of the cores. In a video that calls to mind Guitar Hero, Qualcomm says that 17 of the top 20 apps in China use no more than 2 cores. Qualcomm's point is that apps need faster cores, not more cores. Additionally, Qualcomm says that with each generation, Snapdragon CPU cores are rebuilt while the competition chooses to copy the same old cores.
According to Qualcomm, the current generation Snapdragon has 170% faster CPU performance than the OG Snapdragon chips. While specs fanatics like to talk about the CPU, it makes up only 15% of the Snapdragon SoC which also includes the GPU, 4G LTE, DSP, Camera and Connectivity.
Why does Qualcomm feel the need to discuss quality vs. quantity of cores? Well, it might have to do with
the MediaTek MT6592, the world's first true octa-core processor
. Unlike the Samsung Exynos, which only has one group of four cores active at any given time, the MediaTek MT6592 uses all 8 cores at once. Mass production is scheduled for November.
Meanwhile, kudos to Qualcomm for producing an entertaining and quite visual video that gets its point across in a way that is perfectly suited to the demographic it is trying to reach.
source:
Qualcomm