Alcatel OneTouch Watch hands-on
19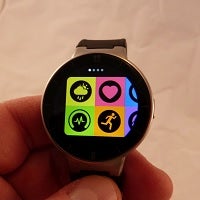 Alcatel is announcing big plans for 2015, and like its competition, it is focusing on engaging directly with consumers and gaining mind share through a line of affordable, well spec'd devices.
Wearables are part of that strategy as well, and where else but at CES 2015 to give the official announcement of the OneTouch Watch. This new watch covers a lot of the features we are seeing come out of the box of most mainstream wearables. It has activity monitoring, and smartphone connectivity notifications, and media remote control capability.
Like a lot of Alcatel's smartphones, the OneTouch Watch also has a very attractive price point, well under $200. Do not let the price tag fool you though, it has a couple tricks up its sleeve that make this handsome wearable stand out.
Design

The OneTouch Watch adopts the classic round timepiece design, making use of the bezel to provide the familiar timepiece ticks along the outer face. The crown and body has a metal construction, and overall it errs on the side of conservative design queues. It will be available in a few color options, and straps to the wrist with familiar flat clasp.

There is an accelerometer so that it will turn on when you want to check the time or see a notification. There is also a sleep/wake button in a familiar fashion to other wearables that are available now. The OneTouch Watch is water resistant (IP67), and connects via Bluetooth 4.0.

The battery is small, 210mAh, but with that Alcatel says you can get up to 5 days of use, and it charges in less than an hour. When it comes to charging, there is no dock or cable to worry about, the wrist strap has a male-end USB plug. Simply plug the watch into your computer while you work or surf the web. It is a solution that is off the beaten path of

wireless charging

, and it eliminates the need for a separate cable.
Display
The display is 1.22-inches in diameter. That dimension may seem on the small side, but it is mostly round, save for a small chin, and makes use of real estate providing easy to read watch faces, and icon placements.
Interface
Alcatel did not go the Android Wear route for the OneTouch Watch. Instead it has developed its own operating system to work on its own specification. The features cover the basics, notifications, activity monitoring for heath, heartbeat and the like.
Most remarkable about this interface, and its companion application, is the connectivity options. The Alcatel OneTouch Watch will connect to any Android powered smartphone (4.3 and up), as well as any iOS device (iOS 7 and up). You read that right, this watch costs just $149 and will connect to an iPhone for good measure.
Processor and Memory
The chipset is an ST Micro ST429 unit. No other specifics were provided, but for the walled-in nature of the proprietary operating system of the OneTouch Watch, it is operating within the specs that Alcatel required to make it work.
Expectation
The value proposition Alcatel is making is optimizing the current crop of functionality in a fundamentally attractive design, at an attractive device that is designed to be easy to use. At only $149, the OneTouch Watch fits Alcatel's current model of attractive devices with desired features.
The Alcatel OneTouch Watch will launch with availability direct from Alcatel.
Alcatel ONETOUCH WATCH