Alcatel A3 XL goes official: 6-inch XL monster with plastic fur and bottom-low specs
16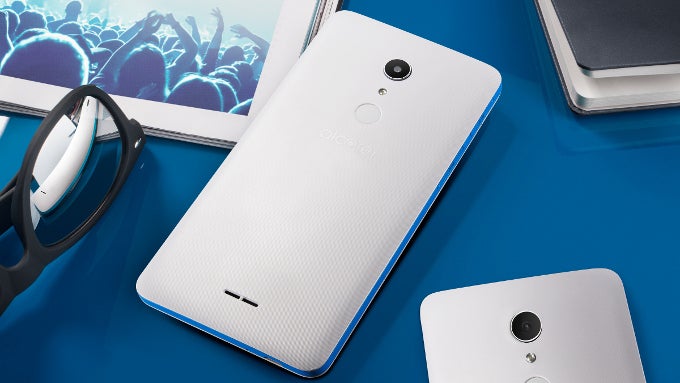 Alcatel, a company that has exchanged ownership throughout the years and is popular in Europe for its affordable, value-for-money phones, has brought out the big guns at CES 2017.
And we mean literally big: welcome the Alcatel A3 XL, a 6-inch phablet that definitely lives up to its XL size.
Here are twe few main things you need to know about the A3 XL: it's a 6-inch phone with a 720p HD display, meaning that it does not look very sharp at all; it's got a cheap price and a cheap plastic design, and it rocks a fingerprint scanner.
Here's a quick look at the most important specs:
Dimensions: 165 x 82.5 x 7.9mm
Platform: Android 7.0 Nougat
Display: 6" IPS LCD with 720 x 1280-pixel resolution, 5-point multi-touch
System chip and RAM: 1.1GHz MT8735B quad-core chip, 1GB RAM
Storage: 8GB
Cameras: 8MP rear cam with 720p 30fps video, 5MP front cam
Battery: 3,000 mAh
Design, display and Performance
There is really not much to discuss about the A3 XL design: it's big, and we mean really big and wide, even wider than the already gigantic Nexus 6. At 7.9mm of thickness, the A3 XL is not too thick, though, and that's important for such a big phone.
The 6-inch display features a very low 720 x 1280 pixel resolution, which works out to a pixel-per-inch number of 244ppi. For most people this does not mean much, so let's just say that it is below the 'Retina' criteria that Apple coined way back in 2010. In order for that level of sharpness, you need at least 326ppi, and the A3 XL falls behind that number. But then again, this is a cheap phone and if you need an excuse, we have laptops with much lower resolution and even the Macbook Pro with Retina display has a lower pixel-per-inch rating than this here phone (but you usually look at it from a further distance, which is very important).
The performance also does not impress: the phone comes equipped with a low-end MediaTek chip with just 1GB of RAM. At least the phone ships with Android 7.0 Nougat, which is nice.
Camera and Battery
There is an 8-megapixel camera on the back and a 5-megapixel selfie shooter, with the main camera capable of shooting 720p video at 30fps.
Megapixels don't mean much for camera performance and we need to see actual images to evaluate the camera, but keep in mind this is affordable phone.
Battery is a 3,000mAh unit, which might seem like a low number for a 6-inch phone, but also keep in mind that this 6-inch phone drives a very low resolution, has a battery-efficient chip and runs the latest and most efficient Android 7.
Price and Release date
The Alcatel A3 XL is not expected in the United States, but it will launch in Asia Pacific, Middle East, Africa and Latin America in the first quarter of 2017, and further on it will launch in Europe in the second quarter of the year.
Alcatel did not disclose an official price for the phone yet, but it will certainly be bottom low.
source: Alcatel
Recommended Stories