If you were going to buy AirPower, don't buy this accessory instead
9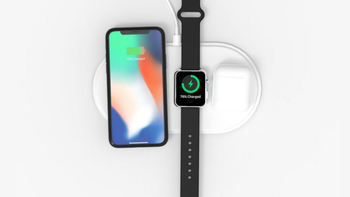 UPDATE:
After further investigation, we've spotted two very good reasons why you probably shouldn't buy the AirUnleashed wireless charging pad. Firstly, the accessory has not been certified by the Wireless Power Consortium, meaning that it hasn't gone through the safety checks required to receive Qi certification. Secondly, the pad carries a suspicious resemblance to white-box wireless chargers that can be had for about $25 from China.
We're not saying that AirUnleashed doesn't work. It probably will charge your Apple iPhone and accessories just fine, but it's probably not the best investment you can make.
Original story follows below.
Back in March,
Apple finally canceled its ambitious AirPower wireless charging pad
. Originally introduced back on September 12th, 2017, the pad was supposed to be capable of charging an iPhone, an Apple Watch and the AirPods carrying case at the same time. Production of the accessory had reportedly started in January, but as it turned out, AirPower was never ready for prime time.
If you still are interested in a wireless charging pad for your Apple devices, you might want to consider AirUnleashed.
Spotted by AppleInsider
, this wireless charging pad is similar in design to the AirPower mat, and will simultaneously charge an iPhone, Apple Watch and an AirPods carrying case. Now, where did we hear that before? Unlike AirPower, the AirUnleashed pad is available now from the manufacturer's website for $99. The price is $108 if you need to add the required QuickCharge 3.0 wall charger. Note that AirUnleashed is not compatible with your standard iPhone charger.
Apple had hoped to put 30 or more coils inside AirPower so that users didn't have to find an exact spot for each device to be placed on the mat. AirUnleashed uses three coils placed right alongside each other, which means that each device must be placed on a certain spot on the pad in order to charge. For example, charging an Apple Watch series 3 or series 4 requires that the timepiece be placed over a dimple in the middle of the pad between an iPhone and the AirPods case.
The following Apple devices are compatible with AirUnleashed:
iPhone XS
iPhone XS Max
iPhone XR
iPhone X
iPhone 8 Plus
iPhone 8
Wireless Charging Case for AirPods
Apple Watch Series 3
Apple Watch Series 4