Ahead of the Windows 8.1 preview release, here is how the revised Start Button will work
34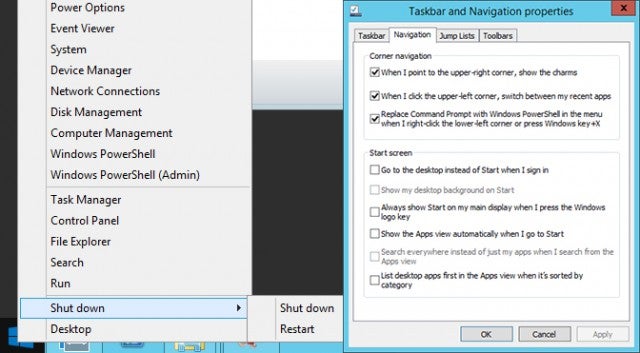 Tomorrow, Windows 8.1 public preview will be available, but thanks to the release of Windows Server 2012 R2 preview yesterday, we get to see how the Start Button will likely function once it makes its way back to the Windows operating system. For those that are pining for the old "Start Menu," those days are gone, plain and simple. However, the return of the Start Button itself is going to bring some much needed familiar function to the desktop.
When you right-click in the lower left corner of the screen in Windows 8, you are presented with a quick-access menu to the standard fare, control panel, search, and run as well as other features. For Windows 8.1, right-clicking the new Start Button provides the same quick-access menu but adds "shut down" and "restart" to the list.
Left clicking on the Start Button brings you back to the "modern" Start Screen, but the right-click menu helps things a lot. In addition to the new Start Button, there are some extra settings in the properties with a new tab "Navigation." This allows you to disable the top-left and top-right features (task switching and charms) and configure the Start Button.
These settings will also let you enable you to set up boot-to-desktop too. The Microsoft Build Conference begins in San Francisco tomorrow. There will certainly be more news about Windows 8.1 and probably Windows Phone and the other services that Microsoft is putting together.
source:
Extreme Tech