Age of Empires: World Domination coming to the Big Three of mobile platforms this summer
20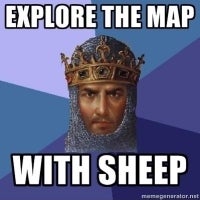 Microsoft announced that Age ofEmpires: World Domination is coming this summer to Android, iOS, andWindows Phone. The real-time strategy game was previously revealed last July, so it'snot a stretch to assume that it will come out exactly one year later.
AOE: WD is developed by Japan's KLab,also behind games such as Fantastic Eleven, Crystal Casters, EternalUprising, and Lord of the Dragons. Judging by the trailer, the newAOE title leaves zero doubt about its origins. For starters, there'sno trace of awkward 3D models and murky textures - KLab has opted forhand-painted, two-dimensional graphics, which look a tad too sweet,but then again, this is an all-ages game. Literally.
In addition, the game will let you lead theCelts, Huns, Franks, and Vikings through battles, and along the way,you will meet King Arthur, Cnut the Great, Joan of Arc, and Attilathe Hun. Now, we have to admit that the cartoonish graphics and thefocus on famous war heroes do give out some uncomfortable "modern daymobile gaming" vibes - you know, buy X amount of resources toadvance past this stage, buy N amount of currency to unlock Joanne'sepic sword of epicness, rate 5 stars to get in-game cash, etc. Let'shope that Age of Empires will be spared of ill-thought outmoneygrabs. Alas, it's not yet known whether the game will be paid,or "freemium".
via Neowin