After the Bixby button, Samsung disables the Bixby chief
28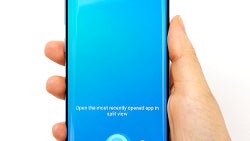 The latest Samsung software update gives you the ability to completely
disable the physical button
that launches its
Bixby
virtual assistant on the latest high-end Galaxy phones. That's right - you can either launch Bixby with that nice clicky button on the left, or nothing at all.
Samsung apparently has a small team working on Bixby, and they've kept themselves pretty occupied with how to make the thing run in English for months, so, unsure about the pace of development,
Samsung spared us yet another smart speaker
with a digital butler built in.
The company, however, is apparently getting rather frustrated with the speed of the Bixby undertaking, and has swapped its head of development Rhee In-jong for Chung Eui-seok who is heading a mobile platform lab at Samsung Research America. Samsung says that Rhee will keep overseeing software development in other categories, while the next version of Bixby, this time with input from
Viv
, which Samsung acquired for the purprose, is about to be unveiled next week in San Francisco.
On the other hand, the move may be to take Bixby closer to the American market, as the team has been struggling with
English implementation
and local service adaptations, so someone from the Silicon Valley might come in handier to do just that, and take Bixby to the next level.