After seeing the Galaxy S8, are you excited for the Note 8 later this year?
59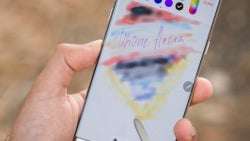 So, with the
Galaxy S8
, Samsung had some serious mending to do, after the whole
Note 7 fiasco
, while still pushing the envelope of the smartphone concept further. A task that required damage control, progress, and innovation, intertwined in such a way that the company doesn't lose its footing in the highly competitive smartphone market, but even puts out a product that people can't stop drooling over.
Seeing the
Galaxy S8
and
Galaxy S8+
, we'd say that Samsung did really, really well in that balancing act. Well, we can definitely hear the critics saying "Wait to see if they explode!", and that's fair. But Sammy was so adamant to drop apology after apology, followed by a barrage of
quality control assurances
over the past few months, that it's hard to not give the company the benefit of the doubt.
So, all that said, how do you feel about the upcoming Galaxy Note 8, now that we've seen the beautiful gems that the Galaxy S8 and Galaxy S8+ are?