After Apple, now it's Samsung's turn to get humbled and apologize officially in China
22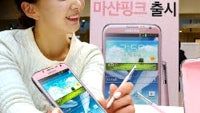 You know you are a pretty important market, when big companies apologize officially for mishaps with their products and offer a year of extended warranty to anyone with the problematic gear, as well as free replacements to those affected.
That's exactly what Samsung is doing with the
Galaxy S III
and
Note II
owners in China, after the state China Central Television (CCTV) made half an hour report on problems with said handsets. CCTV spoke with numerous owners, who were affected by weird glitches in the memory management that can affect the operating memory soldered to the motherboard permanently. As crazy as this sounds, Samsung initially refused to acknowledge how deep the problem is, and said this could be fixed with a software update. Some users' phones kept crashing tens of times a day, though, and CCTV ran its investigative piece that delved deeper into the matter.
Immediately after, Samsung moved to react, and acknowledged there might be a problem with production on these units, then offered free repairs or replacements to anyone affected. For the rest of users with these handsets, they are receiving a year of extra warranty, regardless of whether the glitch has shown with them or not.
The power of media, you know, as the same thing happened to Apple back in April with warranty issues, and
Tim Cook had to apologize officially
. It's an example of China using its state-controlled TV channels to keep foreign companies in check, which we can't say is a bad thing, as after all those turned out real, and not imaginary problems.