Advertisement for Windows Phone centers around the vivid Samsung Omnia W
6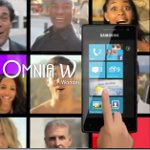 You have got to love advertising spots for smartphones, well, sometimes that is. However, with this very recent one centering around the Windows Phone Mango filled
Samsung Omnia W
, it really makes you want to go out and pick up one by the time you're done watching the minute long placement ad.
Highlighting all the key components of the Samsung Omnia W, also known as the
Samsung Focus Flash
for AT&T stateside, we get a good look at how the handset caters to the needs to different individuals. From easily taking a snapshot, editing it, and sending it off to a recipient, it shows the flowing nature of the handset's operation. At the same time, we get to see the handset in action when it comes to video chatting, creating Office files, and playing a good racing game on the go.
Obviously, the Samsung Omnia W takes center stage throughout the video, but it's nice to see how the smartphone is able to encompass specific individuals in their daily lives. Like we said, it literally makes you go bonkers over the handset when the video finishes. Then again, there are other great alternatives out there in the Windows Phone land.
source:
YouTube
via
WP Central