Adobe introduces "Project Mighty" and "Project Napoleon" rethinking digital drawing
3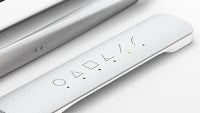 Adobe has unveiled an overhaul to its Creative Suite putting programs like Photoshop in the cloud and making it impossible to pirate, but it did something else too - it unveiled two new products at its annual MAX conference. Adobe's
"Project Mighty"
and
"Project Napoleon"
are a pen that works with tablets and phones, and a digital ruler.
"Project Mighty,"
the codename for the stylus, is deeply integrated within the company's Creative Cloud. First off, it is pressure sensitive and pulls all sorts of options that you have previously stored. It could get Kuler palette themes, it could get brush settings and even pull things you've already drawn.
"Project Napoleon"
on the other hand is a digital ruler that makes it extremely easy to draw straight lines and curves. It looks like a regular ruler that you physically set at the angle you need, but it also extends shapes longer than it is allowing you to draw straight without interruption.
The pen connects via Bluetooth and has one physical button, and an LED back light. The ruler has two touchpoints on its bottom for the tablet to read its orientation.
Right now, this is a project in development stage but Adobe reassures us it'd become a reality in the near future. It definitely looks promising.
source:
Adobe