Adobe Photoshop Touch SDK released to control CS5 with your iOS, Android or BlackBerry device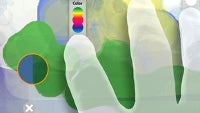 We are still expecting the full-fledged
Photoshop for the iPad
to arrive, but in the meantime a few apps that connect with the desktop Adobe Photoshop CS5 version will suffice. We
heard about
these companion Photoshop apps way back in November last year, and next month they should be hitting the app stores of the world.
To satiate our thirst for image editing on touchscreen devices, Adobe also releases the
Photoshop Touch SDK
. It serves as a platform to develop apps taking advantage of a new update, called
Photoshop CS5 Extended
, which allows for real-time communication with iOS, Android and BlackBerry devices.
The first fruits of this labor are the Nav, Eazel and Color Lava apps.
Nav
is a collection palette for up to sixteen of your favorite tools, and you can also assign colors with it. It allows you to navigate around up to 200 files already in your Photoshop workflow, rearrange or zoom into them with ease, all from the comfort of your iPad.
Color Lava
mixes paint like you would do with an old-school palette, and can be used to create color themes or swatches on its own, or sync them with desktop Photoshop later on.
The third one,
Eazel
, is actually the one that stands out as the real productivity app, as it can be used as a standalone app for painting, and it is fully touch-optimized. Place your five fingers on the touchscreen, and the intuitive interface allows you to align opacity, paint brush size and color, all with the tip of your finger.
Wet and dry paint can be applied for various color combos, and the paint even dries up with time, just like it would in real life. Take that, art class, and drops of paint everywhere on our clothes. The resulting masterpiece you create with Eazel can be then sent to Photoshop CS5 and rendered in any resolution, ready to be printed at will.
We can't wait to play around with these apps, which should appear in the App Store next month, hopefully the full-blown touch version of Photoshop won't be long to appear too.
via
Gizmodo