Additional BlackBerry 10 photos show us the app tray and access to the messaging inbox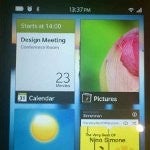 Although it's still in the early stages of development, there are still many people interested in knowing the
intricacies surround RIM's upcoming BlackBerry 10 mobile platform
.
From the looks of it all, RIM held a media briefing event across the big pond over in
London
, where additional photos of BlackBerry 10 emerge showing us some new things regarding the homescreen that we didn't know about previously. Essentially, the briefing previewed the main homescreen and how the
app tray
is accessed by executing swipe left gesture – and from there, you can launch closed apps. Additionally, another new feature shown off is the ability to perform a swipe up from the bottom right corner to access the
message inbox
, which can be done at any time.
No doubt a tease at this point, it's still nice for RIM to show off some of the platform's extended features right now, especially when it's still in the early stages of development. Of course, we're crossing our fingers hoping that the final product will be tweaked and filled to the brim with all the modern conveniences we'd expect to find – in order for it to thrive in this always-volatile landscape.
source:
CNET UK
&
Know Your Mobile
via
CrackBerry