Video brings further look into BlackBerry 10 OS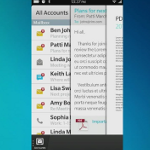 With an impressed and confident RIM CEO Thurston Heins looking on, software chief Vivek Bhardwaj
revealed the new notification system for the BlackBerry 10 OS
. The goal is not to merely notify the BlackBerry 10 user about a conversation, but "
really being immersed in it, instantly
," according to Bhardwaj. With this new system, the BlackBerry user can be using a weather app, see that he has unread emails and BBMs, and can take a look at them instantly. Then, you can open an email if you'd like and even go further by opening up a link to a PDF file.
The advantage to this is that you can use one hand to run this function.
Bhardwaj talks constantly about the "flow"
and what he is saying that instead of being notified about an email, you can open it up and read it while still keeping open the task that you were originally doing. CEO Heins is certainly excited about the feature even if all the audience can muster is some tepid approval.
source:
RIM