Add shallow depth-of-field and bokeh effects to your photos using AfterFocus
12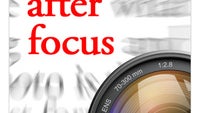 So, the
HTC One (M8)
just got announced, and one of its fanciest features is the
Duo Camera
on its back. Basically, it enables you to apply special blur effects to images, to highlight an object by leaving the background out of focus. Identical effects are present in the camera apps of other new high-ends, such as the
Galaxy S5
and the
Xperia Z2
. However, you don't necessarily need any of these phones in order to emulate a shallow depth-of-field in your pictures. The effect can be applied with the help of an image manipulating app called AfterFocus.
Now, this app has been around for a while, we know. But given the rise in popularity of the aforementioned effect, we feel the need to highlight the AfterFocus software for those who might have never come across it.
To use AfterFocus, you'll first need a photo, of course. Go on and take one, preferably of something not far from the camera, and don't forget to leave enough background area in the frame. You'll need something to apply the blur effect to, right? Then load the image in AfterFocus and choose either its Smart or Manual method for selecting the focus area. In Smart mode, you'll have to draw around the object with the finger, while Manual mode requires you to highlight it manually. The area of the image that is going to be in focus after the effect is applied will be marked red. AfterFocus lets you adjust the strength of the effect, as well as the aperture shape. Filters like Black & White, Sepia, Vintage, and Color Mask can be also added. Hit the Save or Share button once you're happy with the results.
Of course, the AfterFocus app is unlikely to give you better results than what, let's say, an HTC One (M8) can produce with its Duo Camera, but it is an alternative for those who like the effect, yet don't like the idea of buying a new phone only to have it at their disposal.
The free version of AutoFocus has a limited maximum size of 800 pixels for the saved image, but if you spend $1.99 on the Pro version, you'll get that limit increased to 2048 pixels. Also, the paid variant supports edge feathering, which makes the edges of the blur effect smoother. Hit that download link below if you feel like giving AutoFocus a try.
| | |
| --- | --- |
| Developer: MotionOne | Download: Android (Pro version), iOS |
| Category: Camera apps | Price: Free/$1.99/$0.99 on iOS |